Welcome to the
Home and School Committee page!
ALL WELCOME
What does the committee do?
The Committee organises and/or supports lots of fun events and activities for the students at East Taieri School.  All the money collected at the events or fundraising activities are put back into the school by:
Subsidising or covering the cost of school buses to swimming lessons
Purchasing sports equipment
Donating money to assist school camps
Providing prizes for speech competitions
Supporting school events like the Wearable Arts
Providing home reading books for the children
Buying 'wish list' technologies such as Ipads for the students to learn with
Supporting school children and their families during distressing times
Who is in the committee?
The committee comprises interested mums and dads who are interested in being involved with the school and lending a helping hand to get some of the wish list items that the school can not otherwise afford.  Each member of the committee only puts in the time and effort that they choose, and they are a great bunch of people to be involved with.
The committee also relies on the 'Friends of the Committee'.  These are people who would like to help, but are unsure whether they want to be a full committee member.  Friends are sometimes asked to help out at specific events when the committee need an extra pair of hands like the school fair, BBQ's for example.
If you wish to find out more about becoming a member or a Friend of the committee, please contact Annette MacRae (Office Administrator) – etaieri@east-taieri.school.nz to find out more.
---
East Taieri Home & School Committee invites all parents to…
 A NUTRITION EVENING 
with guest speakers Kirsten Beeby & Janna Begley.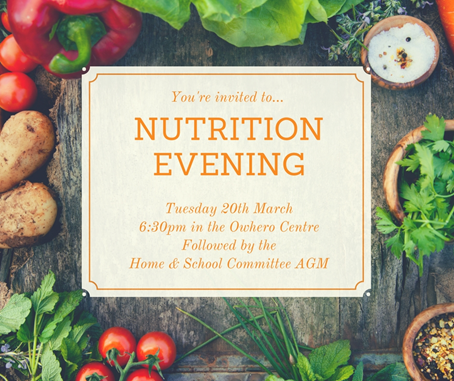 Come along and learn about 
-What healthy eating really is 
-Getting the best nutrition into your children
-Delicious, nutritious meal & Lunchbox ideas
-Drinks & Nibbles provided
This event will be followed by our Home & School AGM at 7pm
We look forward to seeing you all there!